MATERNAL WARNING SIGNS EDUCATION
Pregnancy complications can happen during pregnancy and up to a year after giving birth. Although most pregnancies are healthy, complications can happen to anyone, so all pregnant and postpartum people and their families should learn the warning signs. MDMOM is partnering with community-based organizations to support warning signs education in Maryland.
TIMING OF PREGNANCY-RELATED DEATHS IN THE UNITED STATES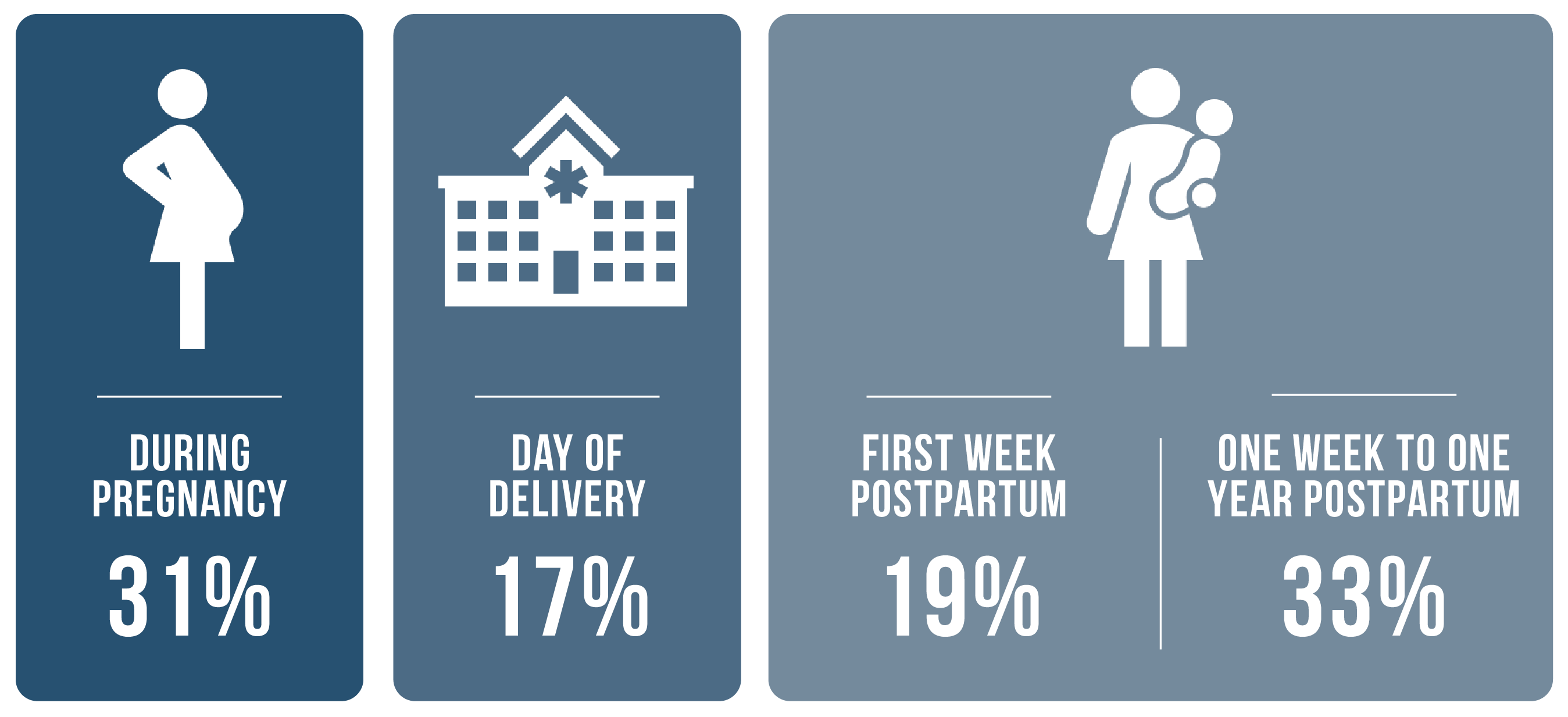 Reference: Centers for Disease Control and Prevention, "Pregnancy-related deaths," 7 May 2019. [Online]. Available from: https://www.cdc.gov/vitalsigns/maternal-deaths/.
LEARN MORE ABOUT URGENT MATERNAL WARNING SIGNS
To teach about the warning signs of maternal complications, MDMOM developed educational videos (available in English, Spanish, and French) that explain the warning signs. MDMOM uses the list of urgent maternal warning signs developed by the Alliance for Innovation on Maternal Health (AIM) and used with their permission in MDMOM training and educational materials.

Warning Signs Video (English)

Warning Signs Video (Spanish)

Warning Signs Video (French)
You can view the the 15 urgent maternal warning signs and download a pamphlet from MDMOM's maternalwarningsigns.org. You can also download the CDC's Hear Her conversation guide, designed to help patients share their concerns with a healthcare provider should they experience any of these signs. Both resources are available in English, Spanish, French, and many more languages. For more information about these signs, visit the Alliance for Innovation on Maternal Health (AIM) website. Also, be sure to visit BIRTH Equity Maryland for videos and resources to help patients effectively advocate for themselves.
EMPOWER: IMPLEMENTING MATERNAL WARNING SIGNS EDUCATION IN MARYLAND
To strengthen maternal warning signs education in Maryland, MDMOM launched the Enhanced Maternal and Postpartum Warning Signs Education and Recognition for Moms (EMPOWER) Initiative. Through the EMPOWER initiative, MDMOM provides training and tools to home visiting programs and other community-based service providers to support maternal warning signs education. Due to the trusting relationship and regular contact they have with families during and after pregnancy, these community-based organizations have a unique opportunity to reach families with important education to improve early identification and care seeking for maternal health complications.
 
IS YOUR ORGANIZATION INTERESTED IN IMPLEMENTING WARNING SIGNS EDUCATION?